Movies that get remade don't always live up to their originals, but some have second-time-around successes. So we're taking a look at the ten best movie remakes ever. Each of these remake films has built on what made them classics in the first place and created something just as good, if not better, than before.
Nothing is more cringe-worthy for fans of certain movies than seeing an unsuccessful Hollywood reboot or remake. Nonetheless, film studios seem to keep doing so regardless due to their potential profitability, even amongst skeptic audiences. It's all part of the cyclical nature of cinema, which has seen plenty of examples throughout history—from Robin Hood to Romeo + Juliet. And though most deserve our moans and groans, now and again, gems emerge amidst duds.
RELATED: 10 Best Spongebob Episodes of All Time Ranked by Viewers
To save you time sifting through bad releases, here's the highest-rated remake list we curated featuring equally good and only successful redos (if not far superior) compared to original versions.
10 Highest-Rated Movie Remakes of All Time
Ocean's Eleven (2001) – 7.7
A Fistful of Dollars (1964) – 7.9
The Maltese Falcon (1941) – 8
Dune (2021) – 8
Casino Royale (2006) – 8
The Wizard of Oz (1939) – 8.1
The Thing (1982) – 8.2
Scarface (1983) – 8.3
Heat (1995) – 8.2
The Departed (2006) – 8.5
10. 'Ocean's Eleven' (2001)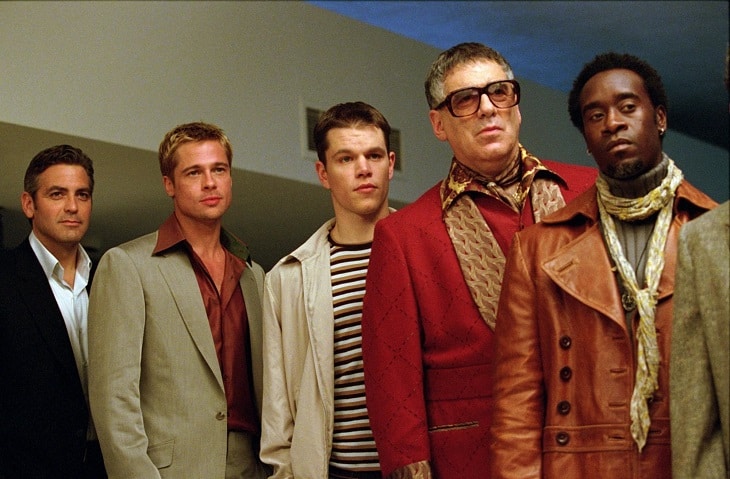 Genres: Crime, Thriller
IMDb: 7.7/10 588K Votes | Popularity: 787 | Metascore: 74
The original Ocean's Eleven movie boasts the presence of iconic Rat Packers Frank Sinatra, Dean Martin, and Sammy Davis Jr. Still, Steven Soderbergh's remake takes glossy escapism to a whole new level with its witty thrills and slick production values. In this version, George Clooney plays Danny Ocean – an expert con man out for revenge against ruthless casino owner Andy Garcia who happens to have shacked up with his ex-girlfriend Julia Roberts.
Brad Pitt, Matt Damon, Don Cheadle, Carl Reiner & Elliot Gould, amongst many other stellar actors, helped pull it all together. You won't want to miss watching as their diabolically clever plan comes to fruition in one of the most thrilling heists on film that proves there is indeed something special about remaking old classics.
9. A Fistful of Dollars (1964)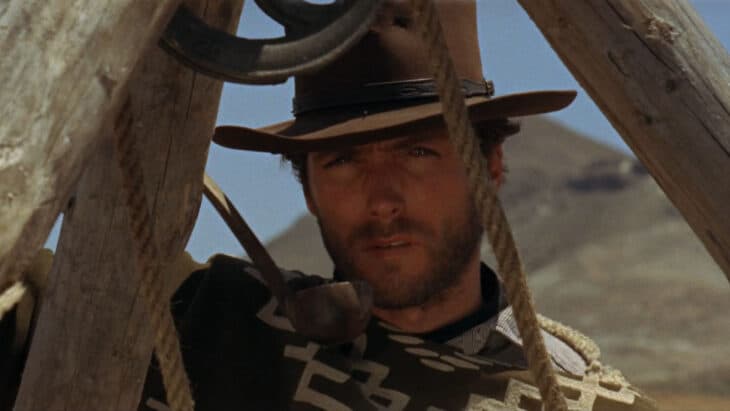 Genres: Action, Drama, Western
IMDb: 7.9/10 222K Votes | Popularity: 2,332 | Metascore: 65
A Fistful Of Dollars is a 1964 Western film by Italian director Sergio Leone starring Clint Eastwood as the lead. It's based on Akira Kurosawa's 1961 samurai movie Yojimbo, telling the story of how two rival gangs in a small border town are manipulated into conflict by an enigmatic gunfighter.
The film reimagines its source material with extreme close-ups and Ennio Morricone's iconic score, cementing Leone's reputation while helping to launch Eastwood as one of Hollywood's leading men — all along mirroring Kurosawa's admiration for great American Western filmmakers such as John Ford (Stagecoach).
8. The Maltese Falcon (1941)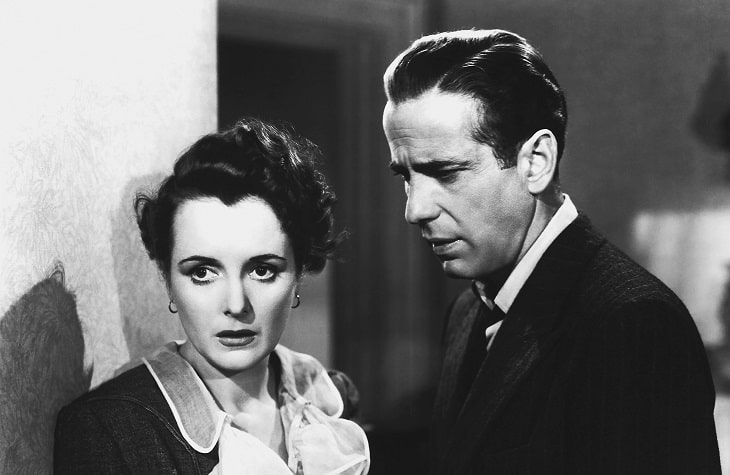 Genres: Crime, Film-Noir, Mystery
IMDb: 8/10 162K Votes | Popularity: 916 | Metascore: 97
Starring Humphrey Bogart as the titular private detective Sam Spade, the 1941 film-noir adaptation of Dashiell Hammett's novel, The Maltese Falcon, is nothing short of a classic. It closely follows the book's plot and characters and translates several critical aspects, such as the atmosphere with its distinct cinematography nuances, onto the screen for viewers to experience. Its snappy dialogue combined with top-notch performances makes this version an unforgettable watch from start to finish.
Many consider this adaption far more faithful than Roy Del Ruth's 1931 pre-Code iteration, which featured significant changes within narrative structure and characterization while inevitably diverging away from the source material. It's still worth seeing if one wants a comparison perspective between old versus new school interpretations.
7. Dune (2021)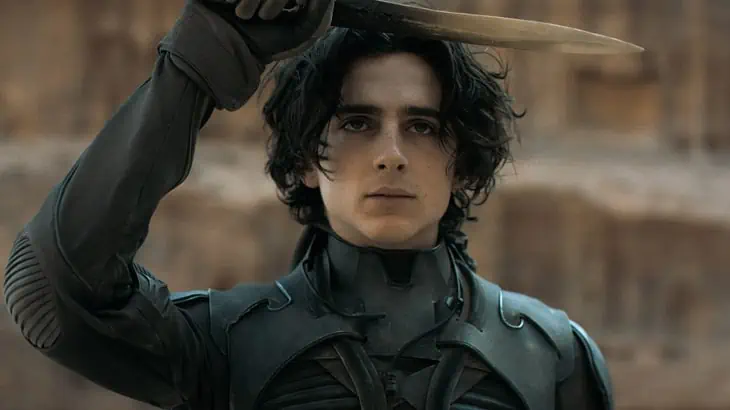 Genres: Action, Adventure, Drama
IMDb: 8/10 664K Votes | Popularity: 108 | Metascore: 74
With 1984's Dune interpreted by David Lynch bombing at the box office upon its release, it seemed that interest in Frank Herbert's stunner of a desert epic would fizzle. But such was not true – instead, Dune has permanently locked itself into cult classic stardom over the years.
RELATED: All 8 'Harry Potter' Movies Ranked by Viewers
As if history wanted to repeat itself (in an Oscar-worthy form), Denis Villeneuve developed his two-part installment adaptation that had cinema-goers flocking to their screens even amidst 2020's global crisis. And this spellbinding retelling did nothing short but marvelously, scoring six wins out of 10 nominations at the Academy Awards.
6. Casino Royale (2006)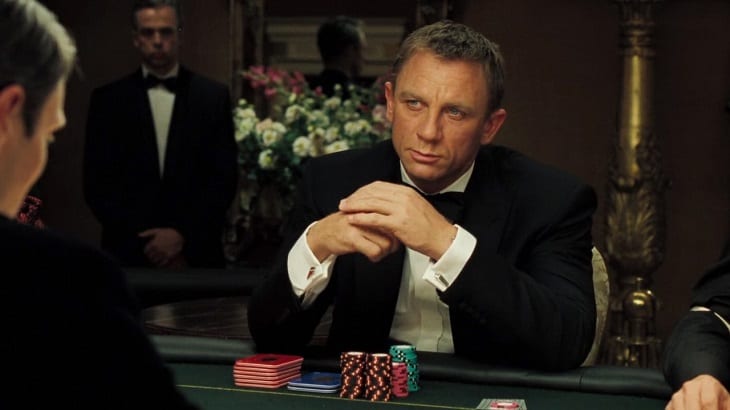 Genres: Action, Adventure, Thriller
IMDb: 8/10 668K Votes | Popularity: 916 | Metascore: 80
Casino Royale is among the most incredible Bond series and remakes film entries. It was a complete reboot for 007 and launched Daniel Craig as James Bond. This 2006 adaptation of Ian Fleming's first novel boasted intense performances from Craig and Mads Mikkelsen (as villain Le Chiffre), dark humor, and gorgeous cinematography.
Casino retained some elements from Michael Apted's 1967 version — like having M assume her agency duties by email at an airport — while being distinct enough that anyone could tell this was something new for fans worldwide. That made it stand out despite comparison reviews that used nostalgia criteria more fitting for either traditionalist or fanboy mode, respectively.
5. The Wizard of Oz (1939)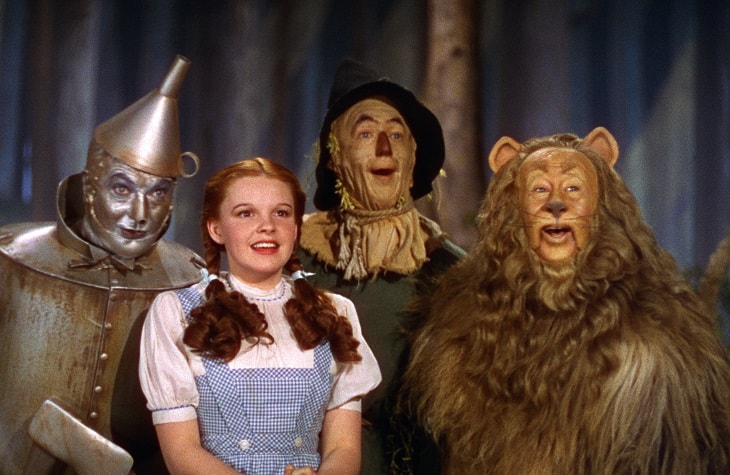 Genres: Adventure, Family, Fantasy
IMDb: 8.1/10 408K | Popularity: 594 | Top 250: #223 | Metascore: 92
The 1939 classic version of "The Wizard of Oz" starring Judy Garland is iconic, to say the least – so many memorable lines and songs. Did you know that it wasn't the first adaptation made? In 1925, a silent film adaption of L. Frank Baum's novel was made with a different focus on Scarecrow — Dorothy's farmhand in disguise.
It seems odd now – after its nearly century-standing greatness has become firmly recognized. At the point of release, audiences were so familiar with adaptations like Robin Hood and Peter Pan. They might've seen yet another take on Oz tedious if they hadn't personally expected much out of it. Luckily, we can look back through history and know how wrong our skepticism would have proven then. No doubt it galvanized some hilarious rosy-red retrospectives. Nowadays, everyone is reminded just how genuinely epic "The Wizard Of Oz" has quickly escalated into becoming such a timeless masterpiece enjoyed by generations since.
4. The Thing (1982)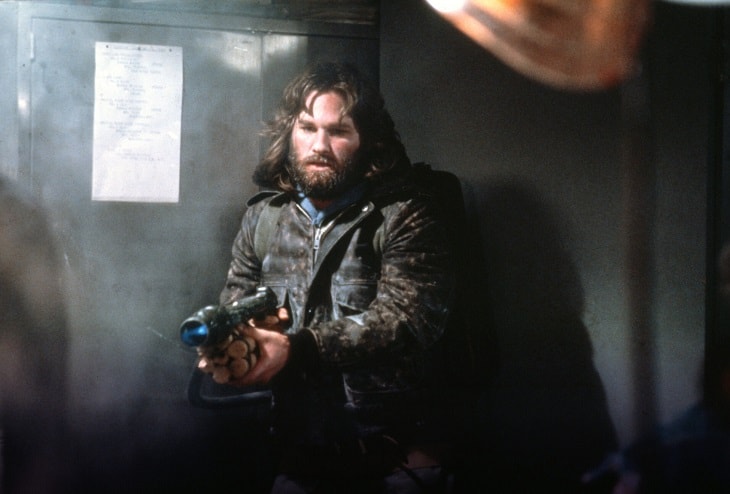 Genres: Horror, Mystery, Sci-Fi
IMDb: 8.2/10 436K | Popularity: 296 | Top 250: #152 | Metascore: 57
The Thing has become one of modern cinema's most beloved horror films. From its tense atmosphere, edge-of-your-seat suspense, and clever special effects to John Carpenter's genius direction and score – this movie is nothing short of cinematic perfection. The story follows a group of scientists stationed at an Antarctic research station who slowly unravel a terrifying mystery. They're confronted by an alien life force that can assume multiple identities.
It's based on John W Campbell Jr.'s novella "Who Goes There?" But it also serves as a remake for 1951′s lower-budget production called "The Thing from Another World" – only with much more visual flair. Though initially not performing too well when first released in 1982, over time, critics came around to appreciate how scary yet satisfyingly original it was. It prompted even further reverence when the prequel aptly named "The Thing" followed nearly 30 years later, making 2011 a truly memorable year for pointy tooth fans everywhere.
3. Scarface (1983)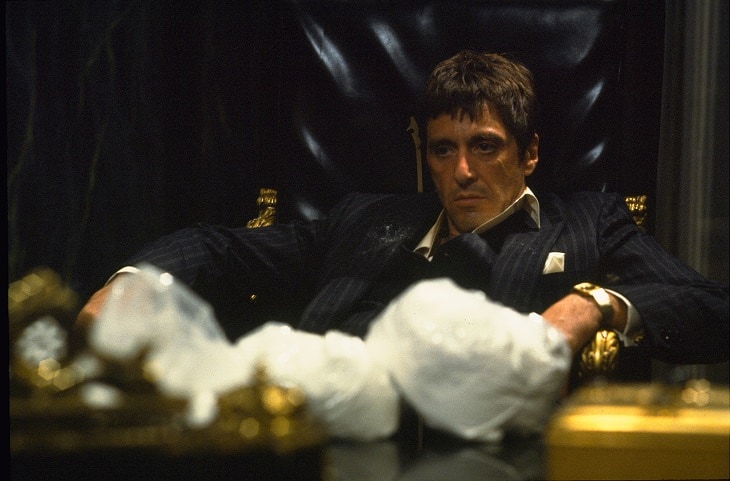 Genres: Crime, Drama
IMDb: 8.3/10 860K | Popularity: 248 | Top 250: #106 | Metascore: 65
The 1983 remake of "Scarface," starring Al Pacino and Michelle Pfeiffer, is one of the most iconic action mobster films ever made. Originally a 1932 classic directed by Howard Hawks and Richard Rosson with Paul Muni in the leading role, viewers were introduced to Tony Montana's rise from Cuban refugee to Miami cocaine king.
RELATED: 10 Best Foreign Films of All Time Ranked by Viewers
This unforgettable portrayal has forever cemented itself into cinematic history. The original film mimicked the real-life Italian gangster Al Capone. However, Scarface goes further than that in detail, exploring topics such as power, greed, and drugs. It also features memorable quotes ("Say hello to my little friend!"), which have become popular catchphrases over time.
For years, people have hung posters or framed images inspired by this movie within their homes – but let's not forget what makes "Scarface" genuinely remarkable. Its ambiguous antihero morality tale can be connected back centuries yet still embraces today's values while teaching us valuable lessons on why we shouldn't strive to emulate characters like Tony Montana so harshly portrayed here. Whether you're watching the original or this more modern classic, "Scarface" has earned its place as an iconic gangster film and one of Al Pacino's most extraordinary performances.
2. Heat (1995)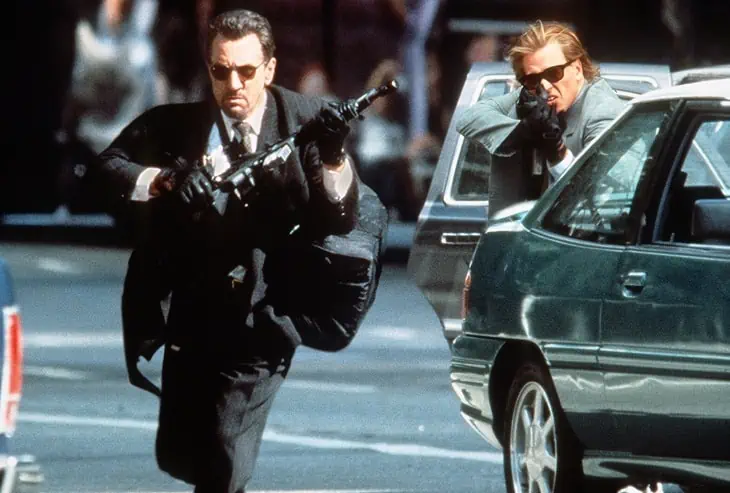 Genres: Action, Crime, Drama
IMDb: 8.2/10 669K | Popularity: 226 | Top 250: #109 | Metascore: 76
"Heat" is an intense and beloved classic that helped spark the modern action movie. Michael Mann wrote a script for it in the 70s, adapted into "L.A. Takedown" in 1989 as a pilot show TV film. But its reception was mixed at best. Undeterred by this fact, with the success of "The Last of the Mohicans" on his side, he assembled Al Pacino, Robert DeNiro, Val Kilmer, and Jon Voight to produce Heat's 1995 iteration.
The story follows cops and robbers clashing spectacularly, leading up to some of cinema's most iconic gunfights and chase scenes. So influential that even the US Marines watch videos depicting these scenes when being taught how to retreat under fire. Adding further evidence that every great remake should include two actors playing off each other, as Pacino & Deniro did here. Their restaurant stand-off scene had everything you'd want to see in a heist movie.
1. The Departed (2006)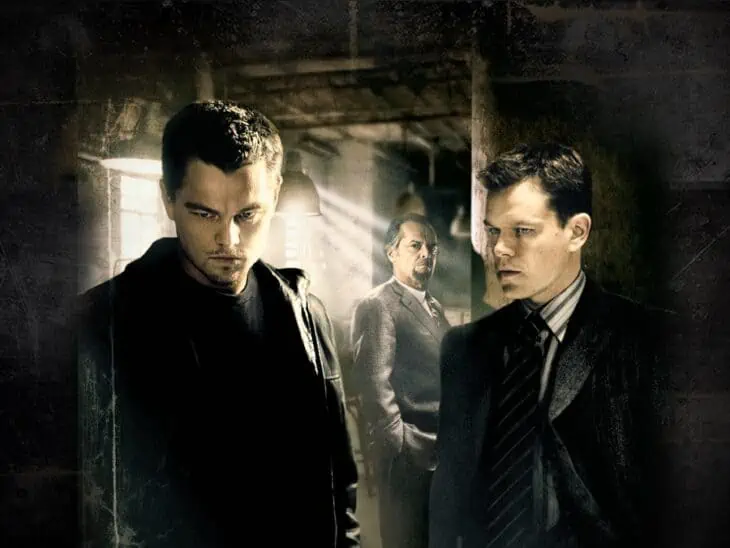 Genres: Crime, Drama, Thriller
IMDb: 8.5/10 1.3M | Popularity: 195 | Top 250: #39 | Metascore: 85
Martin Scorsese brought us an unforgettable crime-thriller in "The Departed," a remake of the 2002 Hong Kong movie "Infernal Affairs." Many have said the original is better and more intense than its American counterpart. However, with such great acting from Jack Nicholson, Leonardo DiCaprio, and Matt Damon, it's hard to say no to this Best Picture winner. Nominated for five Academy Awards – winning four, including Best Director – there's no doubt why critics continue discussing this classic film today.
RELATED: Hannibal Lecter Movies in Order How to Watch the Film Series
Mark Wahlberg also deserves recognition as a supporting actor due to his interpretation of an "angry guy from Boston." All these A-list actors joining forces on a prestigious project gave their best performance, so we can now enjoy watching veterans such as Martin Sheen or Ray Winstone work side by side with newcomer Vera Farmiga under the direction of Scorsese late into his career. It has been truly amazing how he managed all those personalities together, delivering probably one of the greatest remakes ever made in Hollywood.