The Harry Potter franchise is a global phenomenon that has persisted since the final book was released and after its last movie hit theaters. Despite this, it thrives in multiple forms, including theme parks (Universal Studios Butterbeer anyone?), freeform marathons, video games, and re-readable novels.
Hollywood quickly jumped on board, with the first film released less than one year following the release of the fourth novel. Surprisingly made all the more impressive due to having eight films under their belt without sacrificing character or story continuity; there's not an outright bad movie amongst them either. JK Rowling herself contributed creative input for each installment bringing unique flavors and keeping the series alive over a decade later.
RELATED: 10 Best Foreign Films of All Time, Ranked by Viewers
So, which is the best Harry Potter movie? It all depends on who you ask or what metric is used.
Ranking the Harry Potter films from worst to best is no easy task. They all excel in their own way, making it tough to judge one above another. Let's try ranking them anyway!
Harry Potter Movies, Ranked by Viewer IMDb Rating
Harry Potter and the Chamber of Secrets (2002) – 7.4
Harry Potter and the Order of the Phoenix (2007) – 7.5
Harry Potter and the Half-Blood Prince (2009) – 7.6
Harry Potter and the Sorcerer's Stone (2001) – 7.6
Harry Potter and the Deathly Hallows: Part 1 (2010) – 7.7
Harry Potter and the Goblet of Fire (2005) – 7.7
Harry Potter and the Prisoner of Azkaban (2004) – 7.9
Harry Potter and the Deathly Hallows: Part 2 (2011) – 8.1
8Harry Potter and the Chamber of Secrets (2002)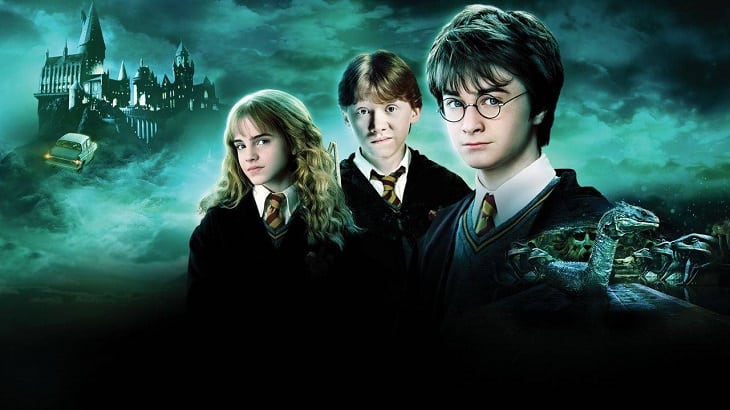 IMDb: 7.4/10 653K | Popularity: 445 | Metascore: 63
"Chamber of Secrets," the longest film in the Harry Potter franchise, attempts to fit almost everything from its book into 161 minutes. Director Chris Columbus delivers a slightly darker and more involved sequel, with Toby Jones perfectly capturing Dobby's mischievous spirit as an impressive CGI character. The wizarding world continues to expand with issues like pureblood supremacy and Hogwarts' past explored further. It is entertaining but fails to reach other films' brilliance.
It has the lowest rating among viewers and critics but shouldn't be overlooked entirely. Despite this, it still won the BAFTA Awards Kids' Vote in 2003.
7Harry Potter and the Order of the Phoenix (2007)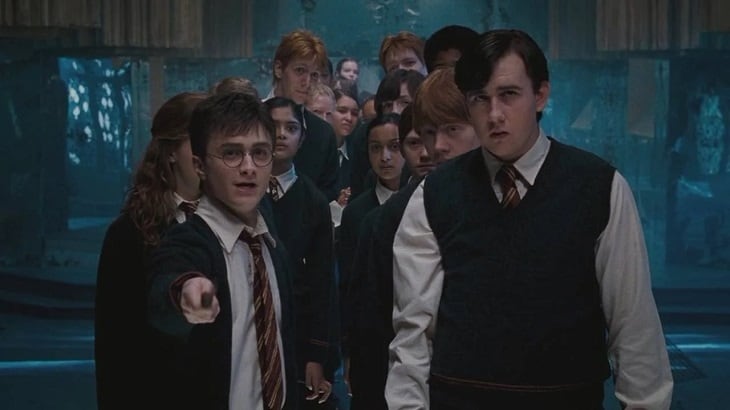 IMDb: 7.5/10 598K | Popularity: 593 | Metascore: 71
"Order of the Phoenix" marks David Yates' debut as director. Imelda Staunton's performance is outstanding, and her character Dolores Umbridge steals the show with themes of power and corruption. Harry Potter fans get their first introduction to Sirius Black (Gary Oldman) in this fifth movie, which Steve Kloves does not write. Michael Goldenberg took on scripting duties when Kloves initially declined before returning for Half-Blood Prince.
The scene between Harry & Dudley at the summer's start sets a different tone than in previous movies. At the same time, later, we have spellbinding scenes featuring Alan Rickman as Snape opposite our protagonist hero. Eventually, leading up to one last confrontation: Voldemort vs. Dumbledore at the Ministry Of Magic that visually excites viewers while delivering deeply moving emotional impact. No wonder David Yates sticks around until all seven films are done!
6Harry Potter and the Half-Blood Prince (2009)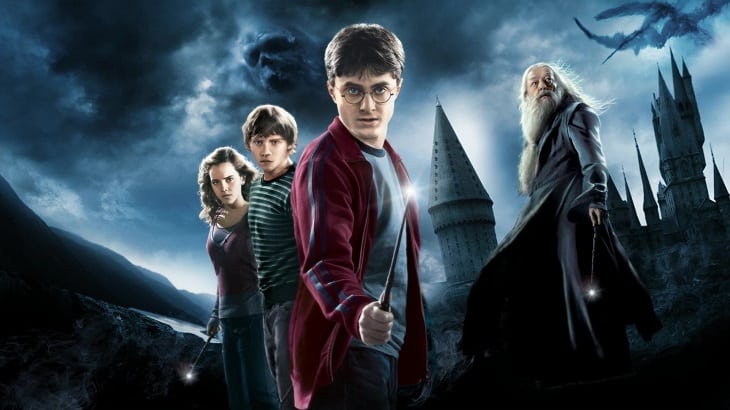 IMDb: 7.6/10 561K | Popularity: 648 | Metascore: 78
"Half-Blood Prince" is one of the most remarkable films in the Harry Potter franchise. Yates and Kloves skillfully blend lighthearted comedy with dark themes. Jim Broadbent's performance as Professor Slughorn provides humor without going overboard. Radcliffe, Grint, and Watson shine performing romantic comedies throughout much of Half-Blood Prince's story arc. The climax leads to Dumbledore's death while introducing Voldemort's origins and Horcruxes at ease tonally speaking – alternating between laughter one moment to tears the next.
RELATED: 10 Best Crime Movies of All Time, Ranked by Viewers
Cinematographer Bruno Delbonell crafted a lush visual palette for this film, making it more visually appealing than "Prisoner Of Azkaban" was previously. At the same time, Nicholas Hooper composed an excellent score capturing both tones perfectly well. Yate manages to wrap up his second venture into Hogwarts before leading us onto Deathly Hallows Part 1 & 2.
5Harry Potter and the Sorcerer's Stone (2001)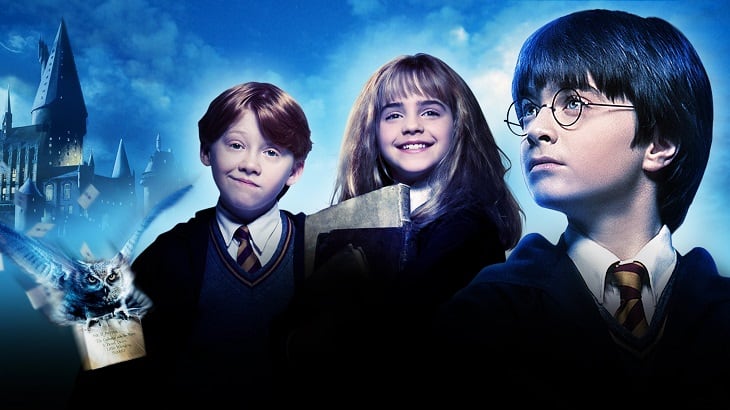 IMDb: 7.6/10 805K | Popularity: 84 | Metascore: 65
"Sorcerer's Stone" is a great start for the Harry Potter franchise. Director Chris Columbus casted an incredible group of actors and created a relatable wizarding world of magic on film. The story is told from an 11-year-old perspective and avoids becoming too childish or cartoony.
Despite its lighter tone than later installments, this movie still packs charm and smarts – plus some great action sequences! Is Ron Weasley sitting atop a stone knight while commanding his giant chess set? Adorable! All three main characters get their chance to shine at the grand finale, which makes "Sorcerer's Stone" one fantastic entry into Potter lore.
"Sorcerer's Stone" may not be the flashiest film in the series, but it deserves credit for laying a great foundation. Director Chris Columbus captured Rowling's world onscreen brilliantly. It is also currently the most popular Harry Potter movie, according to IMDb.
4Harry Potter and the Deathly Hallows: Part 1 (2010)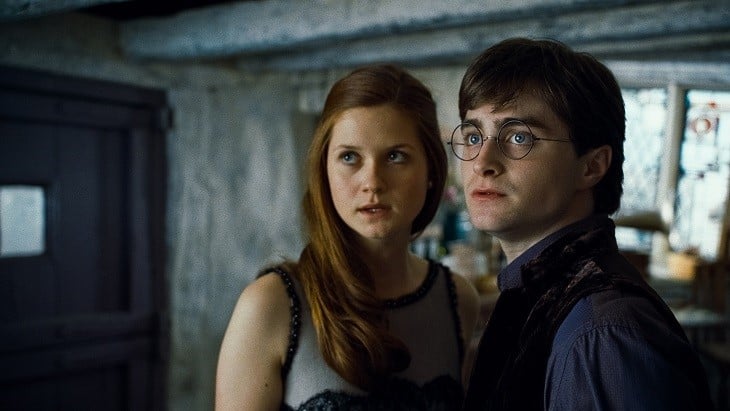 IMDb: 7.7/10 565K | Popularity: 592 | Metascore: 65
"Deathly Hallows – Part 1" has some great features. The animated Deathly Hallows sequence is haunting, and the Harry-Hermione dance scene makes us remember they're still kids with heavy burdens on their shoulders. However, it's mostly set up for a more significant conclusion in Part 2 without much payoff content by itself.
This leaves something to be desired when evaluating this film as an independent entity rather than part of a larger whole story arc or series franchise like "Harry Potter." There are conflicts between characters that need resolving at the end that can't get finished here due to limited runtime. Overall, we cannot judge this film too harshly because it is merely half a story in nature.
3Harry Potter and the Goblet of Fire (2005)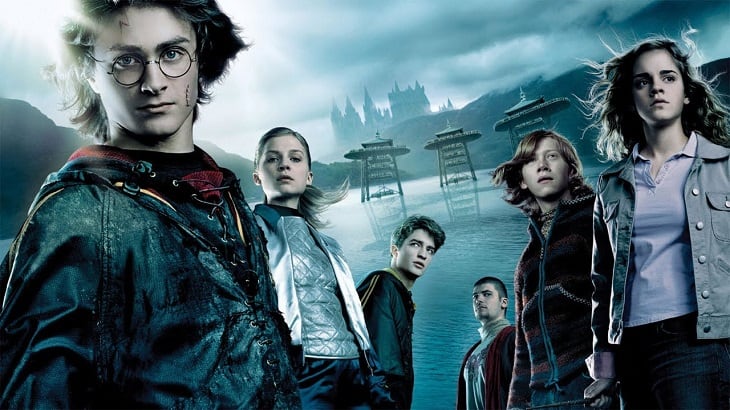 IMDb: 7.7/10 644K | Popularity: 279 | Metascore: 81
"Goblet of Fire" is an essential movie in the Harry Potter franchise. Mike Newell takes up the challenge to give us a bigger wizarding world and Voldemort's first major onscreen appearance. He also tackles teenage romance well, producing plenty of drama around its characters' feelings about opposite sexes leading up to a ball.
The film has its issues with pacing but manages strong emotional beats near its conclusion. Its themes reflect protagonist Harry's life arc – being recognized as "the chosen one" at an age without choice or say, followed by constantly needing to rise for occasion despite difficulties presented throughout his journey.
Though it may be Rowling's best book, "Goblet Of Fire" does not necessarily make it into fan-favorite movies among others in the series – yet those familiar with books can enjoy this much better! Newell produces British energy delightfully but fails to make all parts cohesive compared to other installments, such as "Prisoner Of Azkaban," which many critics widely praised.
2Harry Potter and the Prisoner of Azkaban (2004)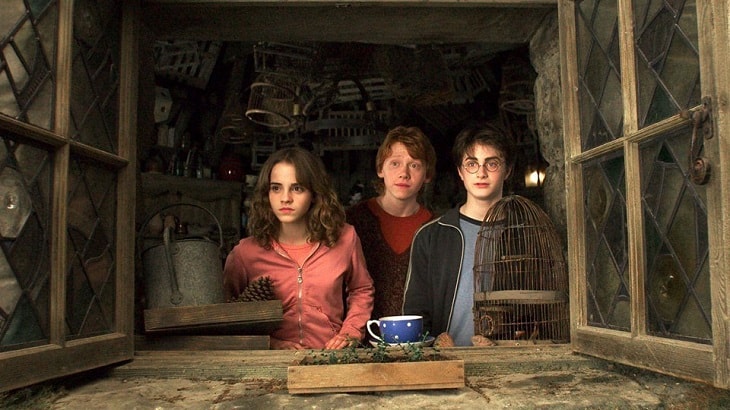 IMDb: 7.9/10 652K | Popularity: 360 | Metascore: 82
The importance of "Prisoner of Azkaban" to the Harry Potter movie series cannot be overstated. It set forth an innovative formula for all movies that followed. Director Alfonso Cuarón altered its visuals while expanding the characters' depth, making it more tactile and memorable than before. His creations are bizarre yet tangible – viewers can genuinely 'feel' his world through imagery such as the Knight Bus sequence, Hogwarts choir with frogs, Dementors, etc. Through Harry (played by Daniel Radcliffe), we follow his search for a father figure, expertly portrayed by Gary Oldman; Michael Gambon replaced Richard Harris as Dumbledore in this one brilliantly as well.
Time turners were beautifully handled too, but character comes first here. Adolescents striving towards independence are wonderfully captured via dress style or running away from home at the start. Michael Seresin masterfully captured it on film– each frame looks like art. This is genius filmmaking —a great reminder of why Harry Potter stands out among franchises today. In conclusion, "Harry Porter & the Prisoner of Azkaban" marks the pinnacle of creativity within the best diversified cinematic experience ever, thus deserving its reputation as magical.
1Harry Potter and the Deathly Hallows: Part 2 (2011)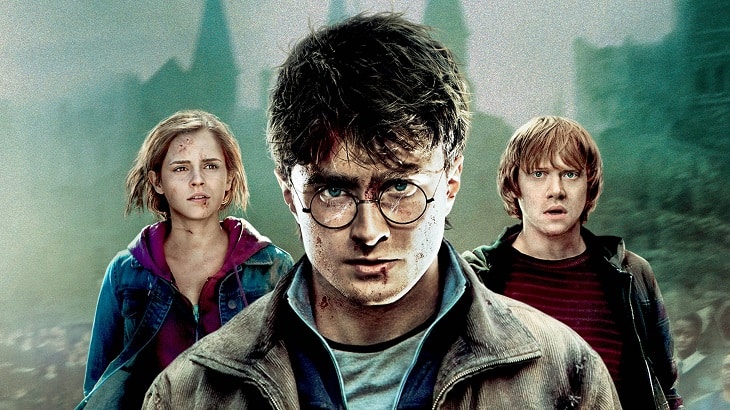 IMDb: 8.1/10 896K | Popularity: 323 | Metascore: 85 | Top 250: #180
"Deathly Hallows – Part 2" begins immediately and is non-stop. Director David Yates had an immense challenge of pleasing fans while wrapping up the franchise. He succeeds with this most demanding film from the series.
Set pieces are breathtaking, aided by characters we've come to know over seven films. Deaths become more gutting because of our attachments to the characters. A single sequence establishes Alan Rickman's Snape as a hero in one of Harry Potter's emotional moments, proving that Harry has a fate he must fulfill: death. And how could we forget the operatic finale at Hogwarts? "Deathly Hallows: Part 2" could have been disastrous, but instead was an exhilarating conclusion for this beloved series.
Critics and viewers agree it's the best Harry Potter movie in the franchise, which is no surprise since it's also the most decorated. It packs all payoff into it; emotionally satisfying action & relationship resolution make up an unforgettable film that concludes Potterverse and stands alone as a great viewing experience.