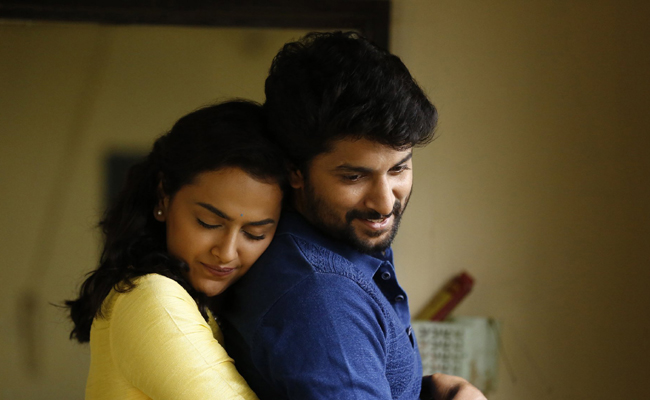 Movie: Jersey
Rating: 3.5/5

Banner: Sithara entertainment
Cast: Nani, Shraddha Srinath, Sathya Raj, Praveen, Sampath and others
Music: Anirudh Ravichander
cameraman: Sanu Varughese
art: Avinash Kolla
Editor: Navin Nooli
Producers: Suryadevara Naga Vamsi
Written and directed: Gowtam Tinnanuri
Publication date: April 19, 2019
Nani's "Jersey" has sparked a lot of interest since the first look was released. The trailer of the film received unanimously positive reactions, further raising expectations. Did the film live up to expectations?
Let's analyze.
Story:
Arjun (Nani) retires from cricket at the age of 26, although he scores and wins matches for many centuries. He tells his wife Sarah (Shraddha Srinath) that he wants to get a regular job and work as a manager at FCI. However, he loses this job due to a false charge and he struggles to make ends meet even though his wife works in a hotel.
The story takes place in 1996 and then tells how Arjun, now 36 years old, wants to play for Ranji matches again to fulfill his young son's wish.
Will he succeed at this age which is normally considered a retirement phase in professional sport? What is the real secret behind Arjun quitting the game at the age of 26?
Performances by artists:
Nani put in his best performance without a doubt. This is mature acting. The inner turmoil of a failed cricketer, the helplessness of a poor father and the struggle with all the problems… Nani has captured them perfectly. He is also very believable in a cricketer's jersey. He carried the atmosphere from start to finish.
In addition to cricket and sentiment, this is also a performance-driven film and Nani leads from the front.
Shraddha Srinath as his wife has also delivered competent performance. Hair is not a glamorous role. She got it right.
Sathya Raj as Nani's coach is excellent. After Nani, Sathya Raj gets more role. The boy Ronit is cute and gives touching expressions. Sampath as a coach is neat.
Technical excellence:
Anirudh Ravichander's tunes aren't that catchy, but his work in the BG department is a huge asset. Cinematography of Shanu is top notch. He has filmed cricket matches in a realistic way.
Artwork and production values ​​are fantastic. Dialogues are fantastic. Screenwriting is excellent.
Highlights:
Story
Nani's performance
Emotional scenes
Background Score
Cinematography
Disadvantage:
Runtime
Excessive cricket images
Analysis
Very rarely do we get to see movies based on cricket in Tollywood. "Jersey" is totally different in terms of plot, genre and narration. This is no ordinary Tollywood movie.
Even though it touches on the aspects of husband-wife differences, father-son sentiment, this is more about making your dreams come true and overcoming all the obstacles.
When a journalist writes a book about the life of Arjun (played by Nani), it emphasizes the point that "it's never too late to dream".
The 36-year-old Arjun, who wants to get a place in the national team, is the starting point. But director Gowtam Tinnanuri has layered many elements to tell it in a compelling way. To hold the sports drama to the end, you need emotional pitch. Gowtam has succeeded in this.
Why does Arjun dream of joining the cricket team at the age of 36 after retiring voluntarily at the age of 26? Because he wants to stay like a hero in the eyes of son forever. This point is the core element of "Jersey" and it has given the necessary emotional touch to the sports drama.
Director Gowtam Tinnanuri started the film by going back and forth from 1986 to 1996, revealing his current life of wife and child and his early romance with his future wife.
Having established these, he gets to the main point: his son asks for the Jersey of an Indian cricket team and Arjun strives for it and from here the director tells the story in an uncomplicated way. He doesn't add twists by force.
Everything happens as one can easily guess, yet it is captivating enough and unfolds without pretense. And he brings a good twist that makes the film complete.
It's quite interesting from start to finish. The first half builds on characters and their problems and the second half goes on emotional pitch.
The director has also addressed the gap between woman and man in a mature way. The father-son sequences are endearing. The scene with the train station is a beautiful moment.
Nani's performance is brilliant, which makes the film even more captivating.
On the other hand, the film runs at a slow pace and took a long time to get to the main point. The cricket matches also become repetitive over time. The movie needs to be trimmed.
All in all, "Jersey" is an inspiring sports film that tells the triumph of the common man and teaches you to never give up. Aided by Nani's natural performance and heartwarming moments, "Jersey" is a winner. This will appeal to an audience that likes stylish movies.
Bottom line: correct pitch
Click here for the latest Direct-to-OTT releases (list updates daily)