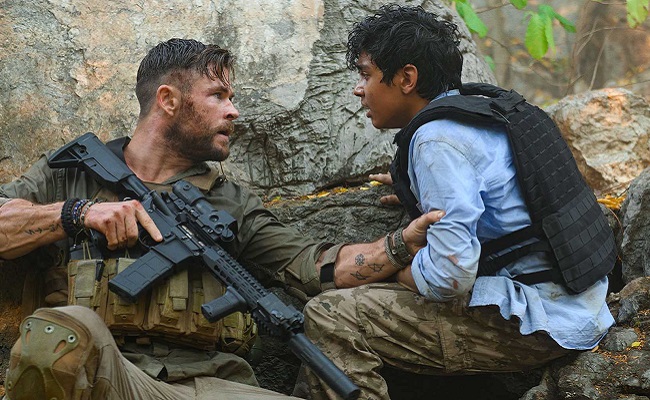 Movie: Extraction
Rating: 2.5/5

Cast: Chris Hemsworth, Randeep Hooda, Rudraksh Jaiswal, Priyanshu Painyuli, Golshifteh Farahani, Pankaj Tripathi and others
Music: Henry Jackman, Alex Belcher
Cinematography: Newton Thomas Sigel
Scenario: Joe Russian
Producers: Anthony Russo, Joe Russo, Chris Hemsworth, Mike Larocca, Eric Gitter, Peter Schwern
Distribution: Netflix
Direction: Sam Hargave
Independent films are no longer looking for studios for a theatrical release. Some notable films were also released directly to Netflix and still managed to make a profit. The makers of Extraction took the gamble and went for a Netflix release during the lockdown.
With Avengers star Chris Hemsworth (Thor) at the forefront and Indian actor Randeep Hooda starring in it, Extraction is currently #1 on Netflix India.
Story: Ovi (Rudraksh), son of an Indian mob boss, is kidnapped by a Bengali don Amir Asif (Priyanshu). A black market mercenary, Tyler Rake (Chris Hemsworth) takes it upon himself to retrieve the boy from Dhaka who has Asif's armed men all over the city.
Performances by artists:
This film relies entirely on Chris Hemsworth's broad shoulders as there is little or no story to tell. Chris gets into action mode without wasting a minute and uses his strength and skills to get through every obstacle. The Thor actor wouldn't disappoint his fans, as he literally goes all out with all the weapons.
Randeep Hooda has an important role to play and he is good as the one who becomes Chris' enemy to an ally.
Iranian actress Golshifeth makes her presence felt and Bollywood actor Priyanshu Painyuli plays effortlessly as the ruthless mob boss.
Rudraksh's performance is okay and the talented Pankaj Tripathi only gets one scene to shine.
Technical excellence:
Stunt directors had more work to do than the writers and director themselves. Stunts are visually stunning and also brutally violent.
Cinematography is perfect because the camera is moving all the time and everything looks very realistic. Music is good.
Stuntman, director Sam Hargave, shows his love for stunts throughout the film. The film has little dialogue and exaggerated action with a lot of violence.
Analysis:
The opening shot of the film shows us blood-soaked Chris Hemsworth gasping for breath after being shot by a sniper and giving us a hint as to what to expect as we move forward.
The scene goes to an Indian high school where a shy teenager is introduced. Before long, he is kidnapped and Tyler, a black market mercenary, is tasked with extracting the child from the extremely dangerous Asif for ransom.
The mission seems impossible with Asif's army everywhere. Even kids carry guns and try to kill Tyler if they get the chance.
The Thor actor has no superhero powers, but his towering physique makes even the impossible possible. He's been on the run from the start. He is shot, hit by a car, falls from a building roof, hides in a sewer canal, but is still on his feet and always in the game.
Tyler has a baton on his hand all the time like a video game hero and rarely uses his brawn to take on the crooks.
The action seems exciting at first, but it goes on forever. It's almost like watching a video game where the "hero" has to clear every obstacle to level up. However, some action blocks are fantastic to watch.
For example, the chase followed by a hand-to-hand fight between Hemsworth and Hooda is a joy to watch. The mighty Thor dealing with a bunch of Rebel kids is also entertaining.
I wish there was a little more drama and depth to the story than just non-stop action in Extraction. Surprisingly, the movie is based on a Ciudad comic by Ande Parks and still didn't have a strong story to tell.
The violence is excessive to a level that most viewers look away from the screens in certain scenes. That said, it is certainly exciting to watch the action unfold in Dhaka's busy and narrow streets.
Now that Hemsworth is doing the extraction work, it's easy for anyone to predict the ending, which is why there's a conscious effort to end it a little differently than expected. Long story short, Extraction is solely for action buffs and Thor fans.
Bottom line: Ball ballet!
Click here for the latest Direct-to-OTT releases (list updates daily)